Sam Hsu, O.D.
Dr. Sam Hsu grew up in San Francisco, California, and received his bachelor's degree in Biological Sciences with an emphasis in physiology from the University of California at Davis. He later attended optometry school at The Ohio State University and received a degree in Doctor of Optometry in 2001.
Dr. Hsu moved to Washington to practice optometry in September 2001 and has been practicing in Redmond/Bellevue since August 2002. Because he works so close to the Microsoft campus, Dr. Hsu has studied the effects of computer vision syndrome on the visual system and acquired the Neurolenses system to help those suffering from headaches on computers. In addition, Dr. Hsu is very interested in the latest technology so we have introduced the Optos Retinal Exam and OptoVue OCT to diagnose and treat diseases like glaucoma and macular degeneration. We have recently acquired the Medmont corneal topographer to measure the shape of the cornea for the best contact lens fit and help children slow down myopia progression with orthokeratology lenses.
Dr. Hsu knows personally the devastating impact of high myopia. His mother developed myopic macular degeneration due to the development of a choroidal neovascular membrane when she was on vacation in Taiwan. As a result, she can only see functionally out of one eye. This personal tragedy drove him to learn all he could about the latest research on how to slow myopia progression in children, which was not available when his mother was a child. He is certified to fit many different types of orthokeratology lenses, such as Paragon, Euclid, GOV soft OK, NaturalVue, and Eyespace lenses, and is an active member of the American Academy of Orthokeratology and Myopia Control. Although he grew up in the US, he has worked hard to become proficient in Mandarin Chinese to help explain orthokeratology and other eye conditions to patients.
Dr. Hsu lives in Bellevue with his wife and two sons. In his free time, Dr. Hsu spends time being active in his church and exploring diverse restaurants. Of course, Dr. Hsu's favorite pastimes are watching his beloved Ohio State Buckeyes football, Golden State Warriors, and following the Oakland A's.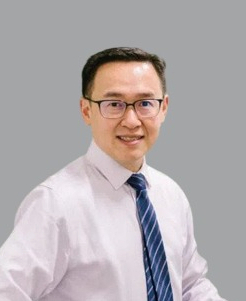 Family Friendly
Accepting New Patients
In Person Appointments
Speaks English
---
Book now with
Sam Hsu, O.D.